Encino Sign Company
Quality signage will always be essential in a business's marketing strategy. You need them to boost your building's visibility and improve brand awareness. So if you want well-crafted and durable signage that will help increase your traffic and average tickets, Ardon Visual Communications is arguably the best Encino, CA sign company to provide you with excellent yet cost-effective results!
All of our signage experts are highly skilled and fully equipped to create professional-looking signage for any kind of business. We can customize every sign and graphic to appeal to your specific target market and effectively address your promotional or informational needs. We will, of course, also design them to bear your branding elements for maximum marketing impact.
Whether you need indoor or outdoor signs and graphics, Ardon Visual Communications can customize them for you both in design and in the material. Not only will we deliver attractive, brand-reinforcing signage but also durable ones that are made from high-quality yet budget-friendly materials. Even better, we can conclude our service with a precise and time-saving installation process.
So whenever you need premium signs and graphics for your promotional or informational goals, trust our team to meet your expectations while minimizing your expenses as much as possible.
Do you want to obtain ultimate exposure for your business and brand?
Free Consultation with Ardon Visual Communications Specialist
Call Ardon Visual Communications today at (310) 439-5416
Signs That Work For You
As a reliable Encino sign company, Ardon Visual Communications aims to provide you with signs and graphics that are not just 'good enough.' Every step of our signage production process—planning, design, material preparation, manufacturing, and installation—will be done with the utmost attention to detail so that once we're done, your signage will look and function in the best way it possibly can.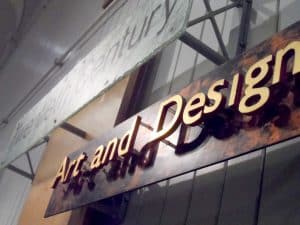 So if you decide to work with us, we won't just fill your details into cookie-cutter templates that will only do little in catching people's attention. Instead, we will meticulously customize your signs and graphics to make your business not only visible and compelling but also easily distinguishable from your surrounding competitors.
With our custom signs and graphics, rest assured that you'll have unique marketing tools designed to look and function in the way that best addresses your specific promotional and informational needs.
We'll also make sure to channel your particular brand image into your signage for increased brand awareness.
Tell us what you need, and we'll start creating the best signage to help you reach your goal in an efficient yet budget-friendly way!
The Right Signage For Your Business
Regardless of the type, size, and industry of your business, Ardon Visual Communications can customize the best signs for you while considering your budget and needs when it comes to visibility, advertising, and branding. We will make sure the final design of your signage will best reflect your business personality and help you outshine your competitors.
We'll also customize the functionality details of your signage depending on your business's location, operating hours, and target market. By taking these factors into consideration, we can appropriately modify the size, height, illumination, and material used for your signage. The graphic design will also be more effective in appealing to your specific target audience while having the right combination of your branding elements.
To keep your business appealing to both new and old customers, investing in our high-quality outdoor signs will be a great help. They can give your exterior a captivating transformation that will make it easier for people to find your business and compel them to check out your products and services.
We can provide you with permanent storefront signs that will proudly display your business name, as well as some temporary outdoor promotional signage that you can efficiently update whenever needed. No matter what kind of signage you need, however, we'll make sure that they'll be as eye-catching and long-lasting as possible.
Here are some of the outdoor signs and graphics that we can customize for your business: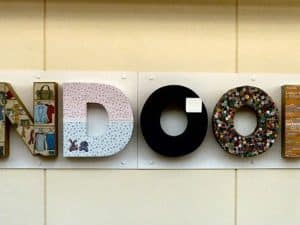 Aside from investing in an impressive exterior, you also need to invest in interior signs and graphics that will persuade people to buy your products or acquire your services, help in making your workplace more efficient for your staff, and make your building an overall pleasant place to visit more often.
Depending on the type of establishment that you own or run, your indoor signs will mostly be used for highlighting your special offers, providing passive navigation assistance, posting safety precautions within your workplace, or displaying other helpful information about your business. They can also be graphics installed for purely aesthetic purposes or to boost your employee's morale.
Included in the different kinds of indoor signs and graphics that we can provide are:
Vinyl is a trusted, versatile signage material that can be used for producing both indoor and outdoor signs.
Promotional vinyl banners, however, are our most popular vinyl product at Ardon Visual Communications. They're not only durable and fade-resistant even when used outdoors, but they're also easily customizable to have varying sizes and attractive, full-color designs.
Vinyl letterings and adhesive graphics are in-demand as well. You can use them to optimize the bare, smooth surfaces in your interiors, such as your floors, windows, doors, and even floors. These vinyl graphics are best for businesses looking for a more cost-effective way of leveling up their marketing campaigns.
Here are some of the vinyl signs and graphics that Ardon Visual Communications can provide:
As a full-service Encino sign company, Ardon Visual Communications makes sure that every signage we deliver is crafted through a meticulous customization process. This gives you, our clients, the benefit of having unique signage that outshines your competitors and functions in the exact way that you need.
No matter the type of signs and graphics that you require, we are ready to cater to any level of customization needed to give you the best possible quality within your budget. We will pay close attention to detail so that whether you need indoor or outdoor signs, we can deliver products that will clearly convey your message to your target market and that are crafted out of long-lasting materials.
Remember, no business stood out from being just like the rest. Don't be afraid to be as creative as possible with your signage and increase your traffic along the way. Just tell us what marketing goal you're currently targeting, and we'll help you customize the most appropriate signage for you!
Vehicle Wraps & Graphics
Additional tools you can use to widen your marketing reach are vehicle wraps and graphics. They are a long-lasting marketing investment that could simultaneously act as an additional layer of protection for your vehicle, keeping it attractive for a longer period.
By installing vehicle wraps and graphics, you can drive your vehicle through your normal route and already spread the word about your business. This is an effortless promotion on your part; your target market will appreciate the non-intrusive way of advertising and still get informed about your location, offerings, contact details, etc.
Any business can utilize these wraps and maximize the use of their commercial or even personal vehicles. They are even particularly helpful for those without physical stores or those only renting shared spaces where there's no place to install traditional signs.
Additionally, we use heavy-duty vinyl for our vehicle wraps and graphics so they can be utilized for any vehicle, whether land-driven or maritime. Here are some of your options:
Complete Commercial Signage Company
Ardon Visual Communications is composed of signage experts who are fully equipped to conduct every step of the signage production in our own shop, ensuring that the quality never declines in every product that we create. We have teams specializing in the graphic design, manufacturing, and installation of your signage, so rest assured that every step will be done as efficiently as possible.
Our graphic designers are in-charge of giving your signage a compelling and attractive look that your potential customers can hardly miss. We will also make sure that your signage collection will cohesively reinforce your brand image, making it easier for the public to be familiar with your brand and be more receptive to your other public advertisements.
Our manufacturing team will be crafting your approved signage design into reality. We will use the materials that you also approved, ensuring that they have the best quality we can manage without going beyond the budget. And with our skills and experience, you can expect every detail to be exactly as you expect them to be. We can even finish the process without a second more than what's necessary.
Finally, our installation team will expertly secure your signage in its place. We guarantee a seamless installation that will be done in little to no time without any amateurish mistakes whatsoever. This will save you not only money but time as well, letting you start drawing more customers in with your newly installed, attractive marketing signs!
Our Commitment To You
There are so many signs and graphics that you can utilize to improve your business performance. Each one even offers room for customization so you can tailor them in ways that will best fit your marketing goals and budget. However, if you want to maximize your signage investment, you need a trusted Encino sign company like Ardon Visual Communications to provide you with professional signage services.
From the design to the installation and even maintenance of your signage, you can rely on our team to address your needs in a time-efficient and cost-effective way. Just tell us all about your signage needs today, and we'll gladly guide you through all your custom signage options.
Call Ardon Visual Communications today at (310) 439-5416 for your Free Consultation with a Encino Signs & Graphics expert!