Woodland Hills Lighted Signs
If you want a sure-fire way to beat your business competitors in terms of visibility, there is no better choice than Woodland Hills lighted signs that are designed, manufactured, and installed by a top signage company, Ardon Visual Communications.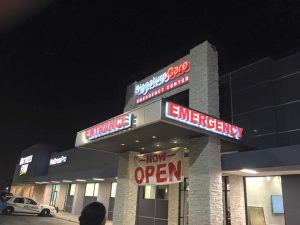 With us by your side, you can get lighted signs of any variation, all at the highest quality of craftsmanship possible. We can do it for you in whatever style, light intensity, color scheme, or size you want.
We can build traditionally utilized signs, such as entrance and exit signs for your doors and point-of-purchase signs for your products. We can also put illumination on any kind of sign using backlighting, an electronic lighting style that can be used on most, if not all, types of signage products.
Lighted signs typically come with special accessories like wirings and supporting structures. You don't have to worry about them. Whether you want to set up simple channel letters with internal illumination or high-tech LED digital signs, we got everything you need, to bring the signs to their peak quality.
Just let us know everything about your lighted sign goals. From your ideas in design and business objectives to your budget and scheduling preferences, we will take in all the information to recommend the best products and specification options that will fit your vision.
Call Ardon Visual Communications today at (310) 439-5416 for your Free Consultation with a Woodland Hills Lighted Signs specialist!
Traditional Neon Signs
Neon lights are a classic in the field of signage and visual design. However, most businesses would probably not think twice about getting lights to portray their brand if they were not so expensive.
Businesses like restaurants, clubs, theaters, and many others may desire the aesthetic of neon lights. But many do not choose them because they are notorious for having high energy costs, initial costs, and maintenance costs. Not to mention, they are proven to be bad for the environment.
But don't worry! Ardon Visual Communications offers the best that our modern technology has to offer. With our state-of-the-art LED technology, we can create signs that look like neon signs but cost nothing like them.
Lighted LED Signs
Indeed, LED signs are the foundation of modern lighted signage products.
This is the product for you if you need to have the neon sign look, but you don't want the high costs and environmental damage.
LED technology offers more than just imitating neon signs. They are also widely used for other types of lighted signs, such as the backlighting for monument signs or the internal illumination of cabinet signs or channel letters.
If your business runs till nighttime, Ardon Visual Communications's Woodland Hills lighted signs powered by LED tech are the best investment you can make for your restaurant, gas station, club, convenience store, or hotel. Just tell us what you need, and we'll make the best-crafted lighted sign perfect for the exact objectives of your business.
Indoor Lighted Signs
Lighted signs are not just useful for outdoor use because of their brightness and attractive colors. Many businesses use indoor lighted signs–and it has been amazing for them.
Perhaps the most common use of lighted signs indoors is for entrance and exit signs. Their doorway signs logically must be considerably vivid and easily seen for establishments that are typically dimly lit, such as cinemas, theaters, and hotels.
For restaurants, lighted signs are used for order and pickup stations to emphasize their location. And because illumination is the most powerful visual effect, many retail stores would use lighted signs to make certain products they want to sell significantly more visible.
Whatever goal you want to achieve using indoor lighted signs, tell us all about it. We'll find the best solutions for you.

Programmable Digital Message Centers
If you want to kick things up a notch, do it best with Ardon Visual Communications's programmable digital message centers. With this state-of-the-art product of lighted sign innovations, you can have a device that can display any content you want and change it anytime you want.
Message centers are attention-grabbing. But their true value lies in the editable content that they offer. Businesses change over time in many aspects. Some establishments must consider seasons to choose which products they should market more. Some undergo rebranding from time to time. Some have something new to offer, and they want to put up a new sign for it. With programmable digital message centers, you don't have to purchase new signs every time you execute changes in your business. You can use special software to change what your message center displays.
With Ardon Visual Communications, you can get them as standalone signs. But you can also install them on other sign types, like monument and pylon signs. They also come in a wide variety of unique designs that you can choose from.

Full-Service LED Sign Company
We have gained the trust of hundreds of clients because we are fully capable of providing every service needed in signage design, production, installation, repair, and maintenance. Ardon Visual Communications is a full-service signage company that can take care of all your signage needs!
We are also happy to share that our team can produce every signage type available in the industry. On top of lighted signs, we also offer other unique sign types, such as ADA signage, fully customized signs, and even vehicle wraps!
Finally, apart from our technical services and industry-grade products, our signage experts are also readily available for any concerns or questions that you may have. Because we are committed to helping our customers get the best signs for their business, we also want them to have the right information before they decide on anything.
With our Woodland Hills, CA sign company's complete set of services, there's no need for you to look for another signage company to work with.

Free Lighted Sign Consultation
Are you interested in our services? Perhaps you still have some thoughts in your mind that you need to answer. No worries!
Give us a call anytime you want so we can talk about your signage needs. Get amazing Woodland Hills lighted signs and any other signage product for your business at Ardon Visual Communications!
Call Ardon Visual Communications today at (310) 439-5416 for your Free Consultation with a Woodland Hills Lighted Signs specialist!